Garden Magic Kinetic Windmill
Add a touch of magic to your garden with this must-have piece of art that has taken the world by storm!

Expertly Crafted Garden Decoration
The blades of this stunning yard spinner are expertly designed to rotate in different directions, while its ball-bearing construction ensures it quietly spins even in the lightest of breezes. Eighteen perfectly balanced wings revolve around a circular axle, creating a mesmerizing display.
🧡
【

Light up your garden with a pop of color and impress your neighbors

】
- This eye-catching spinner is easy to admire from a distance, but won't disturb your neighbors. Sit back and relax as you enjoy its beauty from your sun porch or yard.
❤️【

Sturdy, Modern, and Antique

】
- Unlike other wind spinners that only have one blade that spins in one direction, this solar wind spinner is built with solid metallic construction and dual wind motion. Its two tiers of blades rotate in opposite directions on sealed bearings, combining modern functionality with classic charm. Plus, its stability stake at the base ensures it stays firmly planted, even in windy conditions.
❤️【

Easy to Install

】
- No wiring, no fuss. Simply follow the instructions to assemble this gardening decoration and place it in a sunny spot with the metal stake.
❤️【

Weather Resistant

】
- Our kinetic metal wind spinners are coated with a multi-color brushed finish and have a sturdy stake at the base, making them weather-resistant and durable enough to withstand even the windiest of days.
❤️【

High Quality

】
- Made with durable iron metal components and finished with a long-lasting paint and foil combo, this garden spinner boasts bright metallic and reflective painting, adding a visual sensation to your garden.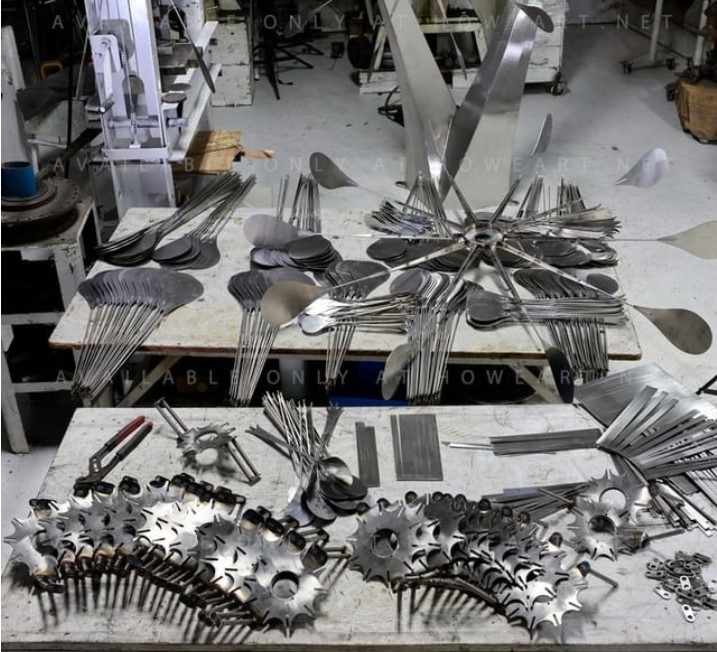 ❤️We take pride in hand-packaging all of our products in our large warehouse.
Specifications:
Dimensions:12 inches x 28 inches
Diameter:12 inches
Color: Silver
Material: Steel
FREQUENTLY ASKED QUESTIONS 
Live in the southwest, will the paint colors stand up to excessive summer heat of 100+ degrees without bubbling or peeling off?
I live in the NW and have had 2 summers with it and the colors are still great. 1st-year summer was 100 and the second summer was 98.
Can The height of the spinner be adjusted to lower?
You could remove the middle section of the metal post to make it shorter. The sections of the pipe could be interchangeable.
All parts solid metal?
All parts are metal. It is very sturdy.
Will the wind spinner rotate in both directions?
It spins in every direction the wind blows. The wheels rotate independently and it turns in both directions to take advantage of every wind there is.
How do you secure it so it doesn't fall over the wind?
The bottom post has 3 spiked feet that you stand on to drive them into the ground. Very firm and stable!
Nice addition
It's durable, lightweight great value for the money, and a great addition to the attraction of the yard.
beautiful
this is my first wind spinner, actually my 2nd as the first had to be replaced because the wind whipped it right out of the ground during a storm and separated it from it's threaded post ... anyways the company sent me another the threads look all good all is tight and it's secure in the ground and it's survived a narly storm!!! 👍
Nice addition
It's durable, lightweight great value for the money, and a great addition to the attraction of the yard.
beautiful
this is my first wind spinner, actually my 2nd as the first had to be replaced because the wind whipped it right out of the ground during a storm and separated it from it's threaded post ... anyways the company sent me another the threads look all good all is tight and it's secure in the ground and it's survived a narly storm!!! 👍